Tonight was opening night for my latest show, "Hot Tin Streetcar", at Unexpected Productions. One of my favorite exercises in improvisational theatre is genre long form improv – building improvised one-act plays or television-style episodes in tribute to an existing theatrical style, film style, playwright or director.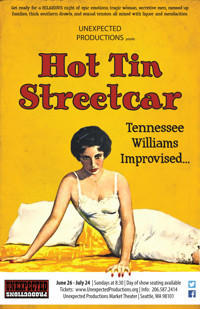 The art of genre improv requires the improviser to also become a student of the genre. In order to remain faithful to a style, you need to understand as much as possible about the settings, the character archetypes, the language, the narrative structure and devices, and the like. You can't just show up with one-dimensional characters and some references and expect to earn the audience's investment.
As with much of the genreprov I've done, Tennessee Williams is a late-acquired subject of study, and one I'm still working on. My interest in the form was originally sparked by seeing other improvisors do a Tennessee Williams scene in TheatreSports years ago. I'd never seen a Tennessee Williams play, but I was drawn to the emotional intensity, the honesty, and the complex characters. So I began exposing myself to the material.
I was already booked for one genre show this May/June (the WIUP Radio Hour), but when I saw the casting call go out for Hot Tin Streetcar (directed by our theatre's artistic director Randy Dixon) I just had to throw my name in the ring. I can't resist the chance to do some impactful character-driven storytelling. (Plus, local Tennessee Williams interest was increased by a run of Cat on a Hot Tin Roof at a regional theater this month.)
In rehearsals, we review the plots of key works (Streetcar, Menagerie, Tin Roof). We talk about Mr. Williams, his family history, his poetic inspiration. We play with pronounced emotional tension, with repeated metaphors and descriptive language, and simple plots with high emotional commitment.
Tonight's show was an example of narrative freefall for me. The main suggestion is a title for the play, and the audience gave us "One Night in Seattle." It was a large cast (9 improvisors) and at first, I thought I'd be playing a very ancillary character. The narrative centered around two young adult orphans from Walla Walla (Jasmine and Florence) visiting their grandparents (Peepaw and Meemaw) on the fictional Galer Street. The dramatic action centered around Peepaw's porch, with an overgrown garden and gnomes and a broken porch swing. It was established that Jasmine's ex, Tom, a no-good kid, was in town for a second chance at life with a job at Boeing – arranged by Peepaw's "friend" Mr. Wilson, with whom there was clearly some dramatic tension.
My character, who became Mrs. Patricia White, was a neighbor of the unnamed family. At first I thought I was just there to add color to other characters. I did a scene with the neighborhood gardener, Edgar, and established myself as a divorcee with pent up feelings for the gardener. I ended up taking a new lodger, a young woman named Blaine, who was going to work for Boeing as well. In a later scene, I brought cookies to the family and talked younger Florence out of believing her older sister was prettier and more worthy. My work, I thought, was done.
But a bit more than halfway into the show, Blaine and Edgar had a scene where they discussed an event where Tom attacked my ex-husband the night he left me. I thought the discussion would be about other characters. It gave me a chance to come in slowly, from the back of the theater, and discover them talking and accuse them of having relations, which of course made Edgar upset and gave us a great moment of revelation (the truth about the night my husband left) and tension (at arm's length with Edgar, with him saying he's always wanted to protect me and me saying I've never wanted protection, only companionship.) It ended tensely, as most Williams scenes do. No redemption, little resolution.
Again I thought I was done. I greatly enjoyed watching the other plotlines "resolve" – Jasmine and Tom reconciling and sleeping together; Mr. Wilson coming to say goodbye to Peepaw, full of unrealized lust for each other, and Meemaw's biting words when she discovered them; Florence cutting Jasmine down to size by taking control of her own life and getting a receptionist job at Boeing, revealing that Tom came on to her at the office; telling Jasmine she was as broken down as that porch swing.
The closing scene dawns (or at least, what we thought was the closing scene) with Jasmine and Tom. Tom is dead drunk and belligerent. He yells at Jasmine, belittles her, advances on her, and everyone backstage inhales sharply; anything could happen to Jasmine. He slaps her, and they get into a fight. And he insists he's not going anywhere, that he's not leaving the porch.
Suddenly, I realize that my character has unfinished business with Tom, thanks to Edgar's revelation about the beating of my ex-husband. So I slowly enter, once again, from the back of the theater, and when the time is right interrupt the fight. I advance, step onto the porch, tell Tom to back off, that I know what he did. He says something to me about "talk, talk, talk" – so my character Mrs. White slaps him, just as he slapped Jasmine. Empowered, I follow up with "You wanted to stop talking, then? Let me tell you something, Tom – you're not worth the dust you're printed on."
Tom is briefly stunned, but gets belligerent again. I explain that slap was meant for my husband, for mistreating me, but that Tom took that chance away. He snaps back, and I change tactics. I sidle up to him, put my upstage arm on his shoulder, and ask whether he thinks he can keep working his way through the women of Galer Street. And as he begins to answer my flirtation, I (stage combat style, no contact) knee him in the groin, hard. I check on Jasmine, ask her if she's OK. And I tell her that women don't need men, though it sometimes seems that way. Jasmine delivers a closing thought, Tom limps into the house, and the lights go down.
It's just so much fun to bring a story like that together with such a committed cast. All 9 of us had important contributions to the narrative. Emotional moments while embracing conflict. We largely resisted the standard improv urges to pile on, to mirror each other, to move quickly, to complicate the plot. We listened intently and wove the story back on itself, repeatedly honoring even the first few onstage offers, like the broken porch swing. In fact, I think that if this became a play of its own, the poster for "One Night in Seattle" would feature the broken porch swing, empty, with its rotted support beams.
Hilariously, we all stuck with our Southern accents even though we were set in Seattle. And though we weren't always trying for it, there were many laugh-out-loud moments.
If you want to see us in action, you're in luck – we've got a good run planned, though there are a few dark weeks. We're performing through June 21st on Sundays at 8:30PM at the Market Theater, but will be dark on May 24 (next weekend) for Memorial Day. If response is good, we may extend even later into the summer.
For tickets, dates, and more, check out the event page here (and check back for additional dates soon!).