In the scope of my existence, improv was a happy accident with a rocky journey. I started on the journey, quite simply, due to peer pressure. I was in the midst of rehearsals for my very first college show, "Compleat Works of Willm Shkspre [Abridged]", and I was in heaven. Every rehearsal was a joy. I loved the time I spent with the cast and crew. Laughter abounded. Because it was a very physical, playful show, we spent a lot of time warming up with what I now know to be improv games. I simply thought it was some form of warmup that folks who studied scripted theater must learn.
One day after warmups, someone from the cast told me that the troupe's improv wing was producing a longform improv show, and they encouraged me to go out for it. I reiterated that I had no improv experience, but that didn't seem to dampen anyone's enthusiasm. So, knowing that I'd be desperately sad once the current show ended, I went to auditions seeking to lengthen my theater buzz.
Flashback for a moment to my high school days. I did tons of forensics (speech and debate, not CSI) but the oratory categories like dramatic interpretation were overcrowded. I wanted to find something that might be more challenging but would offer more chances for involvement. I stumbled upon extemporaneous speaking. You're assigned a random current events question, and you have 30 minutes to write AND memorize a speech on that subject. Mind you, this was BEFORE the Internet, so the extent of your research materials were your mind and any magazines your team had brought along. And you had to search those magazines by hand. So you'd better be up on your reading so you know where to look.
I did passably well in Extemp. Some award finishes, nothing nationals-worthy but it was a gateway to more complex fields like Lincoln-Douglas debate, team debate, and student congress, which turned out to be my favorite. The speeches were usually extemporaneous to an extent, but based on the events inside session, which made it far easier to be passionate and persuasive. In the end, I had to skip qualifying for Nationals senior year to visit Carnegie Mellon, a choice I will never regret.
So flash back to that freshman year at CMU. No, I'd not ever studied improv, but I had been doing improvisational speaking for years. That prepared me to walk into that audition and, in a surprise to everyone most of all myself, nail it. I distinctly remember doing a scene with a guy well-regarded in the troupe, destined to be the improv troupe's artistic director for a time.
It was an object introduction scene where each line adds a new object to the world. I'd never played that game, and we both came in blazing high status but managed to make it work. I played a woman meeting with her divorce lawyer, and the discussion got more and more heated until I stood up, yanked an actual ring off my ring finger, yelled, "Was this ring a lie too?" and stomped out of the scene.
Shortly after, I discovered I'd been cast in the Harold team for this show. The first act was a series of shortform games, and the second act was a 6-person Harold. I had never even heard of a Harold. So, I got to reading Truth in Comedy, and learned by doing. For the uninitiated, a Harold is a loose set of rules that enable us to construct a long story out of improvised characters. Interpretations differ, but ours was the three-round approach. Round 1 is three scenes with pairs of improvisers (AB/CD/EF), Round 2 is 3 scenes with the same characters paired differently (AC/BE/DF, for example) and Round 3 is a series of scenes that bring all of the stories together.
I found the experience freeing and fascinating. And very challenging. A bit like a logic puzzle, watching how the story might unfold and figuring out what pieces your character influences. As sometimes happens with improv, we over-rehearsed, and peaked a bit early. But those last few rehearsals had some really great stories. I remember the first time I truly got lost in a Harold. My character was in peril, the daughter of a president or somesuch, and I knew that 2 other characters were plotting to kidnap me. But I got so lost in my own scene that when they grabbed me from behind it FREAKED ME OUT. Only briefly, but that moment of complete emotional transcendence was pretty awesome. In that moment, I was my character.
Over the next 4 years, my relationship with improv was complicated. I spent two years after that show in the sister shortform troupe, the No Parking Players. Lots of good memories and good times, performing in coffeehouses around campus. But when my boyfriend at the time became their artistic director – and I became vice-president of the parent troupe – I decided to step back from improv. I still took a few credit classes in improv when offered, but I figured I'd return to scripted. It seemed to make sense at the time. Less so now. And then real life called, and I thought I'd be giving up theater for good. And as a producer in the video game industry at EA, I did give up theater, for a time.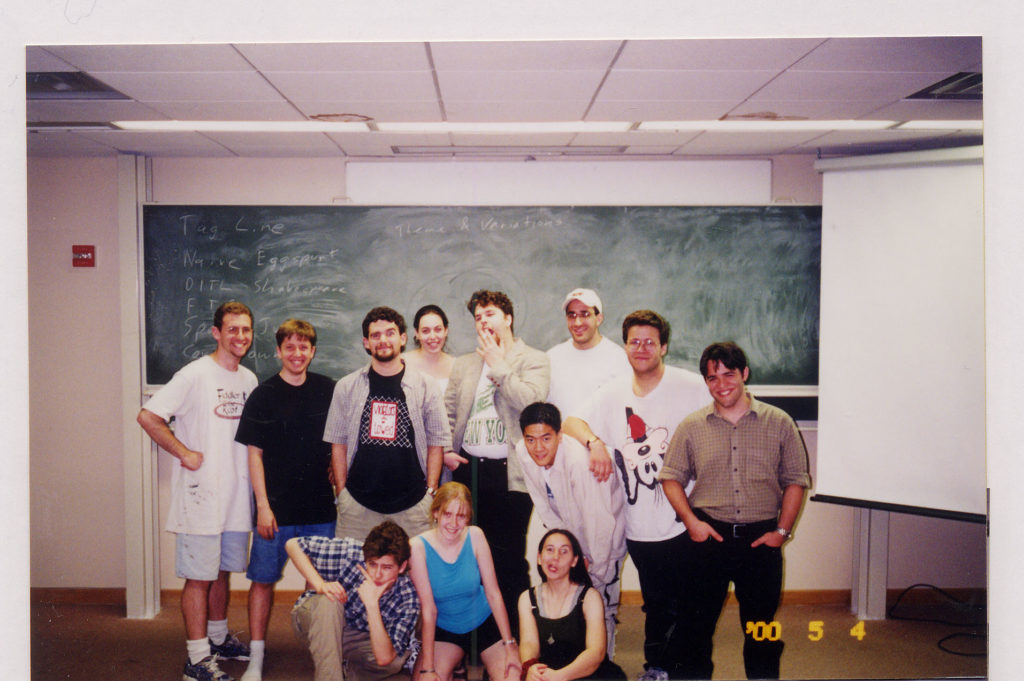 Fast forward past my almost-two-years in California. I've just moved to Seattle, and I've been considering getting back into theater for a while. I've missed it terribly since leaving college. So I subscribed to an auditions mailing list. And within a week or two of my arrival, I saw an audition notice for an improv show called "Saturday Morning Cartoon Show", looking for characters to play in an improvised episode of Scooby-Doo. It sounded delightful – I love cartoons, and it was a fun premise.
There were many reasons NOT to audition. I hadn't done any improv at all in years. The show required a 14-mile (each way) commute across a drawbridge. I wasn't sure yet if I'd have to do long hours at my day job, still in the video game industry. But I had headshots done in California, and I had a resume drawn up from my college days. I decided to throw myself into the fray and let fate decide. The chances were so low that I'd be cast, that in the end it'd be a great practice audition. I remember distinctly that drive, in the dark of an early December night in Seattle, across the 520 bridge for the first time, listening to Gwen Stefani's "What You Waiting For?" in an apropos turn.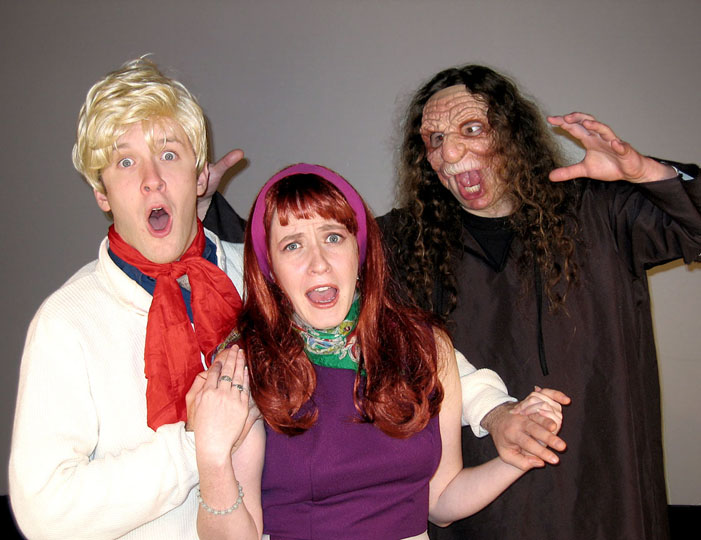 A few days later, the phone rang and everything changed. I was over the moon to receive the offer to join the cast as one of the two Daphnes (We double-cast the Scooby Doo roles since it was a 2-month run). Suddenly, I was commuting into the city a few times a week. I was overwhelmed to be rehearsing and performing in a proper theater (Jet City Improv). I was humbled to be working with such talented folks. I was shocked that there was a small amount of money involved. I was having the time of my life for the first of many times to come.
During the rehearsal process, it came time for the Seattle Festival of Improv Theater, then still in its infancy. I attended and took as many workshops as I could to hone my skills in preparation for our opening at that same theater, just weeks away. I tried to keep my cool. I resolved that I wanted to perform in that festival one day (which would happen exactly one year later in 2006, and again in 2007, and 2012, and 2014…)
I have always felt very blessed to have found the opportunity to join the Seattle improv scene so early. This December will mark the 10-year anniversary of that first audition. I had absolutely no idea how great this journey would become. After SMCS, I went on to do 9 longform shows at Jet City Improv, two years at Split Second Improv with Second Story Repertory, now 6 years at Unexpected Productions, almost 5 years with NERDprov, and three years with Seattle Experimental Theater. Not to mention the scripted shows I've gotten since then, one of which led to meeting my now-husband. Many of my dearest friendships have been forged on an improvisational stage or in a classroom.
And each month brings new growth, whether it's from Randy Dixon and my fellow cast members at Unexpected Productions, from my students as I watch them light up over the course of a quarter, or from exploring longform with my shows at Seattle Experimental Theater. I keep doing it because it's constant growth. And I keep doing it because there are few deeper ties of trust than those built onstage facing the unknown with one's fellow performers.
For me, the meta-lesson from all of this is that the unknown door usually has a better prize behind it than the prize you can see. Scripted theater was a known quantity, but improv changed everything. I had no context for that first audition and it was one of the best decisions I ever made. In short – I've been improvising the improvisation all along, and I'm better for it. For my students who ask, "How did you get started in improv" – well, this is a longwinded response, but it's my journey up until now.