…Continued from "Muppets, Technology, and Me: Part 1"
I fell permanently down the theme park rabbit hole when I turned 16. Just a few weeks after my birthday, my mother told me about an ad she had seen in the paper for auditions at Sesame Place. Auditions? To perform? I was already desperate to get some kind of job, but that was far beyond the scope of what I had pictured.
Still, after years of debate, extemp speaking and acting, it seemed worth the time to audition. I remember being asked to do some things for a video camera, responding to fake guest scenarios or something, plus basic choreography. The very next day I got a call – would I come in for a formal interview? Within a week, I had accepted a position as a Performer I at the theme park I'd eyed dreamily my whole life.
The funny part of this story is that I had NO real idea what a Performer I did. All I knew was:
"Performer" was in the job title
It wasn't a full dancer role (that was Performer II)
Muppets were involved.
It seemed that one couldn't go wrong under the circumstances. In March of that year, we finally had our first orientation meeting. We got a tour of the theatres we'd be working – part of the job was helping to make sure the theatres ran, which could mean anything from security detail on the side of the stage to stroller parking or going up and doing preshows on the microphone. Seemed easy enough. And we knew we'd be meeting in May to learn choreography for the parade.
And then, we walked into the building they called the "Muppet Hut." Rows of costumes along every wall. Ernie, Elmo, everyone… right down to Big Bird. They walked us over to Ernie and…explained to us how we would wear the costumes.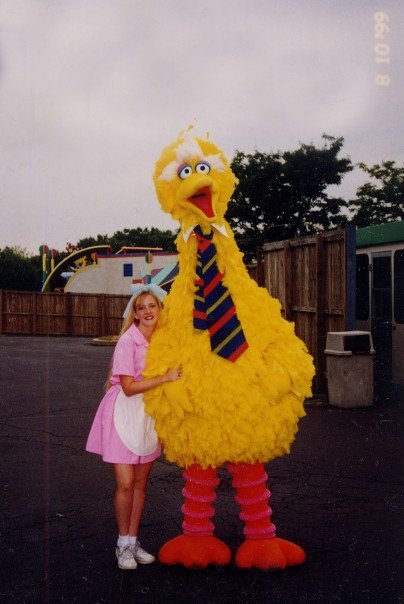 OH. They wanted us to BE Muppets? Holy crap. That was not what I expected AT ALL. Yet… I sure as hell wasn't going to quit such an awesome job. It was just going to be a sweaty awesome job. I resolved instantly to stay the course, and have never regretted the decision. Sesame Place brought me out of my shell, took me from shy introverted bookworm to bubbly extroverted performer. And I loved (almost) every minute of my three seasons there. (1997, 1998, and 1999).
The biggest lesson I learned at Sesame Place (and there were many, both useful and absurd) was the power of entertainment to bring joy and to inspire. As a character, I was the recipient of countless personal whispers from loving children. To them, I was absolutely real, and even when their parents couldn't hear, they'd tell me of their love or about their day or about their parents' divorce. (And don't even get me started about the Make a Wish moments – too moving to write about casually.) I saw my own experiences at Disney World in a new way. Entertainment, when done right, isn't frivolous but inspiring and energizing, a force of joy and hope. In the wrong hands, that power could be abused dreadfully. I wanted to be the right hands.
(As an aside, this journey is how my former Internet name,"MuppetAphrodite", came to be. When I spent time online chatting or on BBSes, I was the only girl, and once the inevitable A/S/L roll call was completed (age/sex/location), the other guys would fawn absurdly to get my attention. Plus I was fascinated with mythology and had long blonde hair, so Aphrodite it was, mostly tongue in cheek as a reference to the way the boys acted when a girl entered their sandbox. The Muppet part should be fairly self-explanatory at this point – I literally WAS a Muppet, and it very quickly became a huge source of pride and identity for me. Besides, "Aphrodite" on its own sounded cocky, but I was trying to communicate something more playful. MuppetAphrodite was born.)
Next up: the reason I'm telling this part of the story, or Why I Am So Passionate About IGNITE.